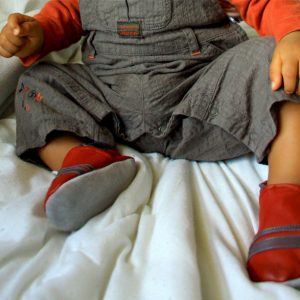 Watch your child as he crawls, walks, runs, jumps: his toes twist, his foot grabs the surface and moves in all directions.
If he wears slippers or shoes with rigid soles, his sensibilities will be reduced and will hinder his movements and his discoveries.
Most parents are sensitive to the purchase of good pairs of shoes, they do not hesitate to devote a budget for their well being.
Young children wear their slippers very often: at home, at nursery, at their grandparents' house, hence the interest of having them wear quality slippers, in which they will feel at ease.
The soft leather slippers allow all the sensations of a bare foot guaranteeing comfort and safety, they allow the foot to "breathe" and to remain always well dry.
It is essential that their feet and ankles are free, to allow them to work their balance and strengthen the muscles of their arch. The bones of the foot become flexible and their ankles stronger.